Important Information about Copper in Your Drinking Water.
Please read this information closely to see what you can do to reduce copper in your drinking water.
Date Distributed: 11/13/2023
CONTINUATION OF CHLORINATION OF CITY WATER SUPPLY
BPU has been chlorinating the City's water supply since August 11th in compliance with Minnesota Department of Health (MDH) recommendation. The MDH recommends chlorination to continue until a residual of .2 free mg/l is detected throughout the City's water distribution system. The unflouridated tap located at the water plant continues to be closed until further notice.
Date of last Update: 11/07/2023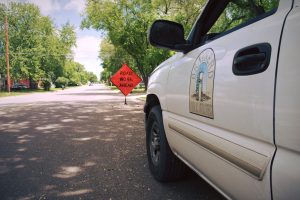 Brainerd Public Utilities Welcomes You
Thank you for visiting Brainerd Public Utilities (BPU)!
BPU is a municipality owned utility that has been providing electric, water, and wastewater services to the City of Brainerd, portions of the City of Baxter, and surrounding townships since 1892.
Our Mission
The mission of Brainerd Public Utilities is to provide safe, reliable, environmentally friendly electric, water and sewer services to our customers at the lowest reasonable cost.
Business Office
Our professional customer support team will provide you with friendly, fast, and helpful assistance.
Emergency & Repair Office
BPU employees are available 24 hours a day, 7 days a week, to respond to electric and water emergency needs. Please call 218-829-2193 if you experiencing a service interruption or have questions about your electric or water service.
811
Are you planning to do some digging on your property? Many utility lines are hidden underground and are not visible from above.
Call Gopher State One Call at 800-252-1166  to submit a request to have these hidden lines marked.
Brainerd Public Utilities News and Updates
0
Gallons of Filtered Water Per Day
Our customers
Love Brainerd Public Utilities
Have used BPU for eleven years now. Have never once had an issue in that time.

Dawn Cain
Rated 5/5 Stars
Very friendly staff. Always happy and courteous

Aleathea Modlin
Rated 5/5 Stars

Bradly Hicks
Rated 5/5 Stars